The Six Best Fender Stratocaster Hard Cases
This article will cover the six best Fender Stratocaster hard cases. If you own a Squier Stratocaster or any other Strat-style electric guitar, this list is for you. All of the guitar cases listed will fit right and left-handed Fender guitars. My list of hard cases comes with over 20 years of live playing experience and handling instruments in all conditions.
These hard guitar cases are perfect for gigging musicians, storing guitars, or replacing an existing hard case. This list considers the eight essential things you need in a hard case article. Take a moment to read that article if you want to learn more.
1. Fender Deluxe Molded Stratocaster Case
The Fender Deluxe molded case is perfect for any Fender Stratocaster. This case had several advantages over many others that I will outline in this article. This military-grade polyethylene hard case is incredibly durable also extremely lightweight.
The plush interior of the hard case will fit your instrument very snugly. This tight fit is what you want in a quality hard case. Never buy a hard case where the guitar can move around on the inside, as you could potentially damage the instrument while it's in the case.
Excellent for Travel
Another massive advantage to the Fender Deluxe Molded case is that it has TSA-approved locks and latches installed. That means if you are flying in the US, you won't have any issues locking it and TSA opening it at a check.
I had my non-TSA-approved locks broken off a case once before, and I can highly recommend this for flights. The locks are robust and dependable, and I have never had issues with them accidentally unlocking.
It is an excellent option for flying but also perfect for car travel and gigging musicians. These cases are the best, thanks to their lightweight ATA molded polyethylene shell. This hard case shell keeps the weight down while making the case nearly impossible to damage.
Buy it from Sweetwater | Thomann | Sky Music
Another benefit of the Fender Deluxe Molded hard case is the handle. I love the way the handle is off-centered from the case body. This off-centered handle allows you to carry the case without any tilt. The handle would be heavy toward the guitar's body if it were dead-center. Balance issues are not the "case" with this one.
This is my favorite hard case for a Fender Stratocaster, and I highly recommend it. Get the best price by using the links below.
Here is my video overview of the Fender Deluxe Molded Hardcase.
2. Gator GTSA-GTRELEC ATA Molded Guitar Case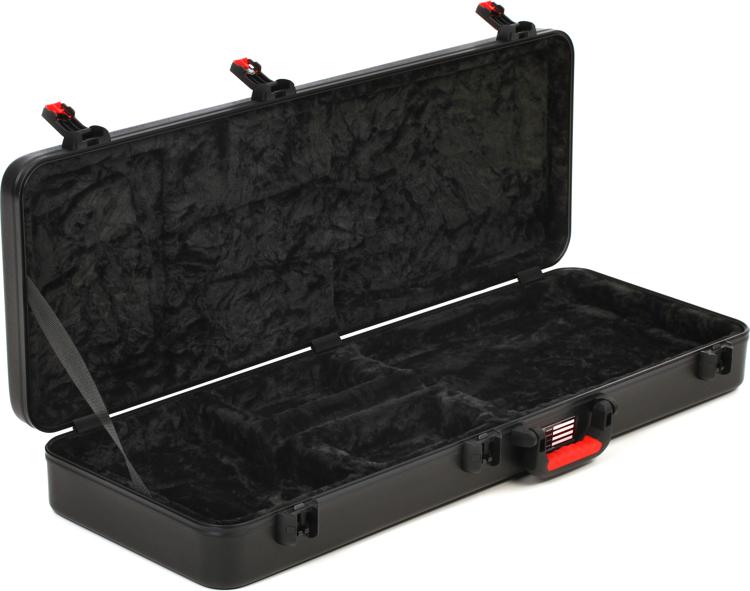 Get the best price on Sweetwater | B&H (USA) | Sky Music
Gator has been making quality hard cases and gig bags for years and is one of the few third-party case companies I trust and use. Much like the Fender counterpart mentioned above, this is manufactured using ATA Military Grade Molded Polyethylene. This robust case features some of the best TSA latches on any hard case.
The Gator GTSA-GTRELEC fits both right and left-handed Fender-style guitars. This flexibility means it will fit a traditional Stratocaster-shaped guitar with no problems. Thanks to this case's quality design and build, the neck of your guitar will be rested on a neck cradle, allowing it to be safely moved via walking or transportation. Additionally, the guitar will not slip and slide around internally. This excellent fit ensures that your guitar will not be damaged while in the case.
Excellent Balance
The carry handle on the Gator case is designed to be off-centered. This off-centered design allows for a balanced carrying experience. However, it also means that if you are carrying the case without a guitar, it will lean slightly.
If you have a high-value guitar or want to ensure the longevity of your guitar, the Gator case is one of the best in the World, and I can highly recommend it. These cases are less expensive than a Fender case but are right up there regarding quality and design.
3. Fender G&G Deluxe Hardshell Case for Stratocaster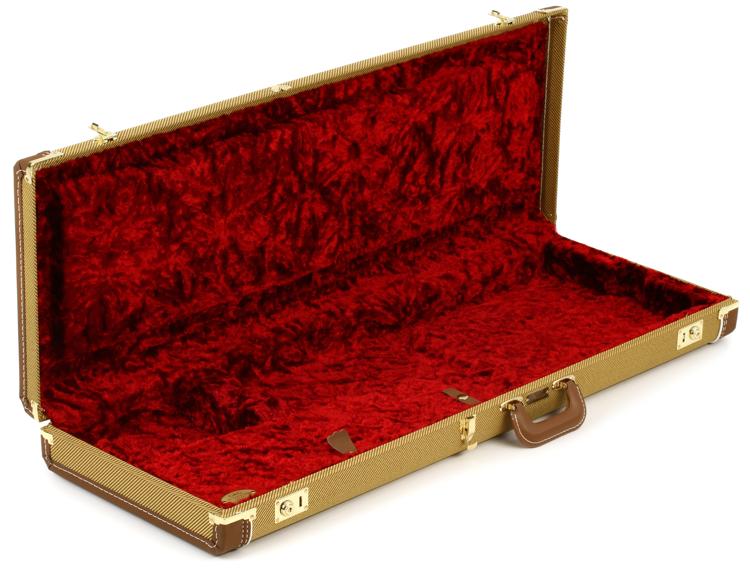 Buy it from Sweetwater | Thomann | Sky Music
The Fender G&G Deluxe Hardshell case is the same case that ships with many of Fender's higher-end guitars. I recently received this case when I purchased the Fender 50s Original Stratocaster, and it's a monster! While the Fender G&G Deluxe hard case isn't the lightest option, they are pretty classic in their design and style.
The G&G Deluxe is a thing of beauty. Each time I open these cases, I smile at how beautiful and plush the interior is. The interior is a perfect fit for any Stratocaster. This will fit your guitar in nicely and snugly. This snug fit is essential as you do not want any internal movement once the instrument is secured. The neck rest and padded interior top engulf the guitar to provide a perfect fit. After all, these cases are made for Fenders' higher-end guitars.
Easy Stacking!
These cases also store and stack well. I have several of these stacked like books in a cupboard, and they all sit very uniformly together thanks to their streamlined and uniform design.
The inner compartment is one advantage of the Fender G&G case over some molded cases. This internal compartment is a welcome addition for storing cables, capos, or pedals!
Small Downsides
The only downside of these cases is that people can find them too heavy, and the locks can be a pain too. The Fender G&G hard case is a quality product, but they are much heavier than the first two options on this list. The locks can be slightly fiddly compared to the other two options above. Generally speaking, the locks are decent, but sometimes they don't click to lock correctly or open easily. With that in mind, they have never all opened by accident. The center lock is more like a latch, and it works fine.
Guitarists who want the Fender custom shop experience will get a kick out of these hard cases. Fender G&G cases are some of the most popular in the World, and they are very reliable after owning them. A Tweed case will mark and scratch more easily than an ABS or molded hard case.
Check the Vinyl Covered one at Sweetwater | Thomann | Sky Music
4. Fender Classic Series Wood Tweed Case
Buy it from Sweetwater | Thomann | Sky Music
The Fender Classic, Series Tweed case comes in third. Visually, this case looks fantastic, but it suffers from being far less functional than the first two cases on this list. If you want a Tweed case, this is the one to buy, but I prefer the Fender molded case.
To put it into context, I currently own three of these cases. Whenever I do a gig, I move the guitar I want to play to the Fender or Gator ABS case because they are far lighter and don't damage as easily.
Premium Interior Design
The internal compartment greatly benefits these Tweed hard cases for Fender Stratocasters. These compartments are large enough to hold several cables and deep enough to store regular-sized effects pedals.
The plush interior and neck rest are also other benefits. Along with the luxurious interior, the guitar fits quite snugly compared with many other cases. The Fender classic wood tweed case works perfectly well for left- and right-handed guitars. I have mixed feelings about this guitar case. Visually it's a great design and matches the aesthetic of Tweed Fender amps and days of old. However, design-wise, they are not perfect.
Downsides
The main downside of these cases is their latches. Unlike the previous two cases, the Fender Classic series Tweed case latches suck—the reason why they are very unreliable. Sometimes the laches is easy to open, and sometimes they are not. Sometimes they can also spread when you do not want them to.
If you have owned one of these cases, you will probably know about the latching issues. For those replacing a similar tweed hard case, you will be happy with this one. However, guitarists wanting a lighter and more robust case with better latches should look at the previous two alternatives.
While these Tweed guitar cases can take some abuse, they will wear and tear much easier thanks to their Tweed covering. Some argue it adds to the charm because it shows wear and tear.
5. Artist EC500 ABS Electric Guitar Hard Case
The Artist EC500 ABS Electric guitar hard case is one of the best affordable Stratocaster cases on the market. The first benefit to this Stratocaster hard case is the price. Artist Guitars makes a great selection of more affordable accessories and guitars, and over the years, I have had a positive experience with their products.
The Artist EC500 is very similar to a Fender ABS hard case. This case is very light, and the molded interior allows for a tight fit on your guitar. Like all of the cases on this list, this Stratocaster case will work for left- and right-handed guitarists. ABS can withstand quite a lot of blunt force before showing any damage.
The EC500 ABS Hard case has two side closing latches and a middle locking latch. Again, the key is provided in the case, and the latches are strong enough to withstand being bumped around.
Downsides
While the locks are reliable, I don't like them as much as the Fender ABS hard case. That said, these are very functional and reliable.
6. Artist Economy Foam Hard Case
Artist Guitars USA | Artist Guitars Australia
Artist Guitars is the king of making affordable and functional cases. This Economy Foam hard case is an excellent option over a traditional hard case. This rigid foam case offers excellent protection from the elements but is far lighter and more practical thanks to its zip-lock design.
While the Artist Economy Foam Hard Case is not an ABS or Tweed Hard case, they are very durable and weigh almost nothing when you compare them against the Tweed G&G cases. These are an excellent option for the gigging musician who wants a quality foam hard case for their beloved Stratocaster.
Downsides
The only downside of these cases is they are more prone to soaking in water if caught in a rainstorm or wet situation. ABS Cases are by far the best when it comes to being water-resistant. If you are moving from the car to the gig, it shouldn't be an issue. Lastly, know that If you want to lock this case, you'll need to pad-lock the zips.
Final Thoughts on the Best Hard Case for Fender
Each of these cases will appeal to different people depending on your needs. For example, you know which ones to buy if you need the Fender logo. Alternatively, go for the Gator to save money while getting an exceptional case. Finally, the Artist options are best if you are on a tighter budget and will offer excellent protection for your guitar.
There are no trade-offs with the Gator case compared to the Fender ABS case. Both cases will stand the test of time while being reliable and robust long-term to protect your favorite Fender guitar.
Each of these Fender hard cases comes with a Key to allow for secure locking of each case. If you want more information on what you want on a hard guitar case, please click the link to my article on that topic.